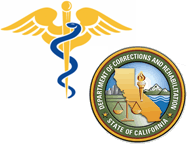 CorrectCare Integrated Health Provider Registration Portal – CDCR/CCHCS
The CorrectCare Integrated Health (CCIH) provider portal is available for checking your California Department of Corrections and Rehabilitation (CDCR) / California Correctional Health Care Services (CCHCS) inmate claims status. Every taxpayer identification number (TIN) your organization submits claims for will require a separate account. All user account requests submitted will be validated by CDCR/CCHCS with an authorized provider agent/representative. The provider and authorized user (requestor) will receive an email notice of account activation within approximately five (5) business days.
Please read and accept the end user agreement, and do not share your account or password information with anyone else. Be advised that if your account is not accessed within a ninety (90) day period, it will be deactivated and a new request will need to be made.
CCIH Terms & Conditions
Please read this agreement carefully. By accessing or using the CorrectCare Integrated Health Care (CCIH)/WLT Claims Portal (the "portal"), you agree to be bound by the terms set out below. If you do not wish to be bound by this Agreement, do not continue to use or request access of this portal. This agreement is applicable to the use of this portal and the use of its data, regardless how you plan to access this information.
Your continued access to or use of this portal constitutes your binding acceptance of this Agreement, including any changes or modifications made hereafter. The updated, on-line version of this Agreement shall supersede any prior version. By accepting and agreeing to this Agreement, you represent that you are the person authorized by CCIH and the California Department of Corrections and Rehabilitation (CDCR)/California Correctional Health Care Services (CCHCS) to access the portal. You expressly authorize or otherwise provide your permission for us to send or cause to be sent to you, directly or indirectly, any email or other electronic messages.
Purpose for information. The information contained in this portal is intended to provide general medical claims information only, and no attorney-client, doctor-patient, accountant-client or employer-employee relationship is created by reason of your use of this portal. CCIH and/or CDCR/CCHCS may deny access to its information systems to anyone at any time for any reason.
Provider Access Restrictions. The provider's authorizing agent ("the provider") is responsible for assigning a limit of two (2) authorized users to act as Provider's agents by using the Provider's taxpayer identification number (TIN) to use the portal ("Authorized Users").
The Provider's authorizing agent is the managing supervisor. The Provider warrants that Authorized Users shall be authorized only to the extent necessary to perform their functions on behalf of Provider, each Authorized User will be held to the same standard of confidentiality applicable to the Provider, and that the Provider will be responsible for use of the portal by any such Authorized User. The provider's authorizing agent/managing supervisor, shall ensure controlled access for each such authorized user in accordance with the instructions of CCIH and shall assure that such access is promptly terminated should an Authorized User no longer be authorized by Provider to have such access.
Provider will assure appropriate use of the CCIH portal by Authorized Users including the implementation of procedures to assure such appropriate use and to preserve the confidentiality of information available through the portal. As part of such office procedures, the Provider will assure that when any Authorized User, employee or agent, who may have had access to the portal, leaves the employ of Provider, the user id and access code ("Password") used by Provider for the portal will be deactivated/terminated by submitting an account termination request to CCHCS Help Desk. Provider will assure the implementation of appropriate Password security procedures are adhered to by the Authorized Users. The Provider and Authorized Users shall not divulge or share account identities and/or Passwords. Any Password that has been compromised shall be changed immediately by notifying CCHCS Help Desk at (916) 691-0699.
The Provider and its Authorized Users will request information only for new, existing and historical patients claim data and will use such information only in connection with the performance of administrative services related to claims payments.
The Provider understands that the transactions conducted with CCIH are subject to the data standards requirements of the Health Insurance Portability and Accountability Act of 1996 ("HIPAA"). The Provider understands that by using the portal, it is a covered entity for the purposes of the administrative simplification provisions of HIPAA including, without limitation, regulations relating to the privacy and security of health information (45 C.F.R. Parts 160-164). Provider shall be and remain in compliance with all applicable HIPAA regulations.
The Provider understands that if its Authorized User is not a staff member of Provider's workforce (e.g., a billing vendor, billing administrator), said Authorized User is a Business Associate of provider under HIPAA, and Provider and its Business Associates must be bound by a written agreement that complies with the Business Associate provisions in the HIPAA Privacy and Security Rules, as well as the terms of this Agreement.
The Provider understands that information available through CCIH is confidential, electronic Protected Health Information ("PHI") as more fully defined by HIPAA. Provider agrees to preserve such information as confidential in accordance with the law. Provider will immediately notify CCHCS Help Desk at (916) 691-0699 if the portal security has been compromised in any way, if there are any system errors, inaccuracies, faults, or if the portal is being used to otherwise contribute to unauthorized use or disclosure of PHI.
Reliance on Your Changes. You agree that CCIH and CDCR/CCHCS may rely, in whole or in part, on any changes, modifications or updates that you make to any information on this portal, including, but not limited to your address change or other contact information. Any such change shall be processed by CCIH and CDCR/CCHCS within a reasonable time period.
Duty to Report Misuse. If you become aware of or suspect fraudulent activity or any other activity that may threaten the security of CDCR/CCHCS inmate protected health information therein, you agree to report such activity to CDCR/CCHCS immediately.
Improper Use of Portal. You shall not use the portal in a manner which may violate the laws and regulations of the United States or any other nation. If you use, or attempt to use the portal or its content for purposes including, but not limited to tampering, hacking, modifying, or otherwise corrupting the security of the portal, your access will be terminated and you will be responsible for all damages including, but not limited to criminal prosecution and civil and criminal penalties.
Indemnification. You agree to defend, indemnify, and hold CCIH and/or CDCR/CCHCS harmless from and against any claims brought against CCIH arising out of your action or inaction in violation of these terms of this Agreement or your use or misuse of this portal.
Applicable Law. These terms are governed by the laws of the State of California and the Commonwealth of Kentucky without regard to its conflict of laws principles. Any dispute arising from these terms may be resolved in the state and federal courts in either State.
Limitation of Liability, Waivers and Disclaimers. You waive any claim against CCIH and/or CDCR/CCHCS based upon the quality, accuracy, completeness or availability of this portal, regardless of cause. You acknowledge that the use of this portal is subject to risks inherent to the internet and to communications generally. CCIH makes no representation that any data sent to or from, or residing at, this portal or systems are safe from destruction, corruption, misdirection, or service interruption.
You agree that CCIH and/or CDCR/CCHCS shall not be liable for failure to provide services or access to this portal during any period and for any reason, directly or indirectly, including, but not limited to failure of any electric or mechanical equipment or communication line, telephone or interconnect problems, computer viruses, unauthorized access, theft, operator error, severe weather, earthquakes, natural disasters, power failure, accident, labor controversy, act of God, or the intervention of any government authority. Communications with our portal. CCIH and CDCR/CCHCS welcomes your feedback and suggestions about how to improve our products and services and this portal. You agree that CCIH may use all suggestions, ideas, concepts, improvements, reports, information, material or other content, whether written or oral, furnished by you to CCIH without accounting to you in any manner whatsoever.
Survival. Your obligations regarding privacy, confidentiality, indemnification, security and compliance with state and federal laws shall survive the termination of this Agreement.